World Cup Downhills for the Swiss are like footy grand finals for us, and they don't get any bigger, or longer than the Lauberhorn race at Wengen every January. Why not time your next, or first, Swiss snow holiday to overlap with the 91st running of this amazing race in January 2021?
The Lauberhorn race is the longest World Cup Downhill on the entire circuit, at a thigh busting 4450 odd metres. The Lauberhorn also features the highest maximum speed, with racers hitting around 155 km/h, or just below 100 mph on the old imperial scale. The four and a half kilometre plunge takes around 150 seconds for the top contenders.
Thousands of spectators and media line the Lauberhorn race course and the main viewing areas. The media zone is a scrum – when we covered the 61st edition of the race back in 1991 I staked a front row spot at the finish area which took some serious defending as heavyweight Euro sports media decided to try and barge the young Aussie ski magazine intruder out of the way. I held my ground, determined to see our last great ski racer, Steven Lee, in action on the course. He didn't dissapoint, nor did the race, it was absolutely spectacular!
No question freeride competitions like FWT, big airs, X-Games and slopestyle comps have taken skiing beyond what anyone might have thought possible only 25 years or so ago. But still, even now, there is nothing more seriously ballsy, dangerous and skillfull on skis than Downhill racing at its peak like this. Every serious recreational skier should have it on their all time bucket list to attend a race in person.
The Lauberhorn race is as good an opportunity as you will get. So lock January 15-17, 2021 in your planner. Apart from the Downhill on Day 2, the Saturday, there's a combined Downhill and Slalom on Day 1 Friday, and Slalom on Day 3 Sunday.
Wengen is part of the Jungfrau, one of the all time classic Swiss ski regions, an incredible inter-linked network of resorts beneath the spectacular peaks of the Eiger North Wall, Monch and Jungfrau. Glaciers cascade down from these. Quite literally: you may often hear huge chunks of ice crashing down, and perhaps be lucky enough to see it happening, although hearing and turning to see the aftermath plume of snow rising from the impact is more likely. Don't panic, the areas where this happens are not anywhere in bounds or where anyone skis.
Outside of race times the Lauberhorn course is open to the public to have a lash at, which is highly recommended. My time was embarassingly around triple the race time, but racers don't have to contend with snowboarders sitting down on the course, or lost beginners stopped across the famous Hundschopf ('crested dog') rock section drop off. Or carry packs. Or indeed get a bit lost.
Anyway enough pathetic excuses, it's still a lot of fun running the course route whether you tuck and truck or cruise. Just don't sit down or stop across the steep sections please..
the Lauberhornrennen at Wengen Jungfrau is the longest downhill on the world cup circuit 4.5km 1015m vert the likes of Steve Lee do it in 2 mins 30 .. so here's our slo mo effort for Switzerland. get natural. thanks Stöckli for the skis

Posted by SnowAction on Saturday, March 11, 2017
While obviously the race itself draws a massive crowd, and the aprés gets truly epic, the Junfrau region is big enough with a fantastic network of rack railways, gondolas, cable cars and latest generation 6 seat bubble express chairlifts, so that you can easily get plenty of skiing in as well.
Most spectators will flock up on the superb train network, with extra services for the event days.
Stay in car free Wengen itself, up at Kleine Schedegg on the crest of the rail links between the Wengen and Grindelwald sides, or in Grindelwald – the latter offering the largest choice of accommodation and more other activity options.
Another bonus of coming to Wengen/the Jungfrau during Lauberhorn race week is the plethora of extra events/festivities running in tandem, from great food stalls to the impressive Patruille Swiss air show. And like Grand Final week, people are in party mode. If a Swiss racer wins, watch out, happy days!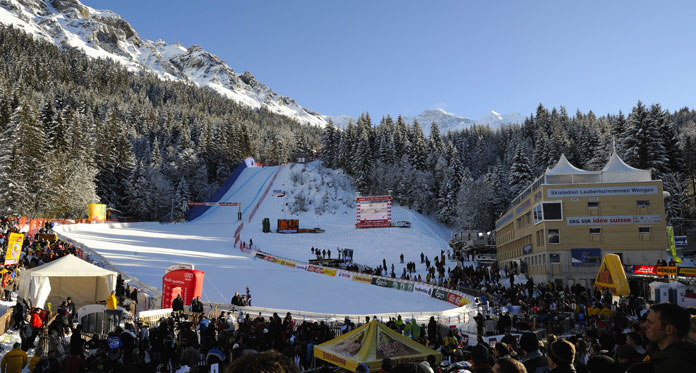 Wengen/Jungfrau package deals
Ski Max are Swiss experts and have some great 2021 early bird discount packages available. All rates below in $AUD – check with them on the links for full details/latest information and rates as these may change.
Hotel Belvedere Wengen from $2399* per person 10% off Lodging, discount applied to the Lift Tickets
7 nights twin share in a North Facing Hotel Room
6 day Jungfrau Region Lift Pass
6 day Ski Equipment rental 'Excellence Pack'
Return train ticket from Zurich or Geneva airport to Wengen including Half Fare Card (2nd Class Rail)
Daily Breakfast and Daily Dinner
complimentary glass of wine with each evening
*Valid for travel 02 January – 04 April 2021. Book and pay by 31 July 2020. Upgrade to other rooms at Hotel Belvedere and 1st class rail ticket is available at a supplement More at http://skimax.com.au/destinations/switzerland/wengen/hotel?stage=Stage
Hotel Silberhorn Wengen from $1399* per person 10% off Lodging, discount applied to the Lift Tickets
3 nights twin share in a Double Room Standard
2 day Jungfrau Region Lift Pass
2 day Ski Equipment rental 'Excellence Pack'
Return train ticket from Zurich or Geneva airport to Wengen including Half Fare Card (2nd Class Rail)
Daily Breakfast and Daily Dinner
complimentary glass of wine with dinner each evening
*Valid for travel 02 January – 04 April 2021. Book and pay by 31 July 2020. Upgrade to other rooms at Hotel Silberhorn Wengen and 1st class rail ticket is available at a supplement More at http://skimax.com.au/destinations/switzerland/wengen/hotel-silberhorn-wengen/
Hotel Romantik Grindelwald from $3699* per person 10% off Lodging, discount applied to the Lift Tickets
7 nights twin share in a Comfort Hotel Room
6 day Jungfrau Region Lift Pass
6 day Ski Equipment rental 'Excellence Pack'
Return train ticket from Zurich or Geneva airport to Wengen including Half Fare Card (2nd Class Rail)
Daily Breakfast and Daily Dinner
Complimentary glass of wine with dinner each evening
*Valid for travel 02 January – 04 April 2021. Book and pay by 31 July 2020. Upgrade to other rooms at Romantik Hotel Schweizerhof and 1st class rail ticket is available at a supplement. More at http://skimax.com.au/destinations/switzerland/wengen-2/romantik-hotel-schweizerhof/
Lauberhorn race program for 2021
Tuesday January 12, 202112.30 UhrTraining Lauberhorn Downhill
Wednesday January 13, 2021
12.30 Uhr
Training Lauberhorn Downhill
Thursday January 14, 2021
11.40 am
Patrouille Suisse (airshow training)
12.30 pm
Lauberhorn Downhill training run
5.45 pm
Official Opening of the 91st Int. Lauberhorn Races in Wengen
6.15 pm
Public Draw/Pick of bibs for the Lauberhorn Alpine Combined Downhill
afterwards until 10.00 pm
Ski party, entertainment and food in the World Cup Village Wengen
Friday January 15, 2021
from 9.30 am
Food booths open along the slope, in the finish area and at Girmschbiel
10.30 am
Alpine Combined Downhill
1.15 pm
Patrouille Suisse (airshow)
2 pm
Alpine Combined Slalom
3 pm until 2 am
Entertainment and food in the World Cup Village Wengen
6.15 pm
Public Draw/Pick of bibs for the Lauberhorn Downhill in the World Cup Village Wengen
7 pm
Award Ceremony Alpine Combined in the World Cup Village Wengen
afterwards
Ski party with food, drinks, entertainment and live music in the World Cup Village Wengen and Eigerhubel
Saturday January 16, 2021
from 10.30 am
Food booths open along the slope, in the finish area and at Girmschbiel
11.35 am
Patrouille Suisse (airshow)
12.30 noon
Lauberhorn Downhill
1 pm – 2 am
Entertainment and food in the World Cup Village Wengen
6.15 pm
Public Draw/Pick of bibs for the Lauberhorn Slalom in the World Cup Village in Wengen
7 pm
Award Ceremony Lauberhorn Downhill in the World Cup Village Wengen
afterwards
Ski party with food, drinks, entertainment and live music in the World Cup Village Wengen and Eigerhubel
Sunday January 17, 2021
from 9 am
Food and entertainment in the finish area (big screen)
10.15 am
Slalom 1st run
1.15 pm
Slalom 2nd run
immediately after
Award Ceremony in the finish area
Check more race details and ticketing options on the official website on the link here
More info on the region and Switzerland:
www.jungfrauregion.ch www.jungfrau.ch www.interlaken.ch www.MySwitzerland.com